Blacksmith Run (Sold Out)
In our beautiful gated community of Blacksmith Run, we've combined the look and feel of resort living with a convenient location just ten minutes away from downtown Hendersonville, North Carolina.
We offer a wide array of amenities designed to appeal to every resident's lifestyle and interests, including a clubhouse, swimming pool, and fishing lake that is available to every homeowner!
Within our clubhouse, you'll find a fully-stocked and updated fitness center, a large gathering room perfect for throwing parties, and even a catering kitchen to help feed all your happy, hungry guests!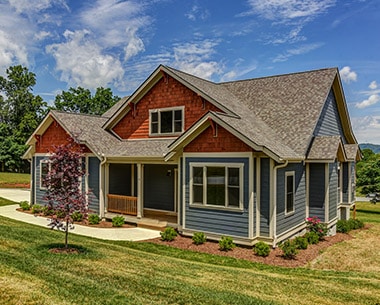 New Construction With Guaranteed Design Standards
While our Blacksmith Run community is all new construction, we've worked hard to make sure that our homes are stylish and affordable. Priced from the $300's, our homes include granite countertops, stainless appliances, hardwood flooring, as well as lots sized to allow for plenty of outdoor living. Concerned about whether our homes will be large enough to suit your family's needs?
We've chosen floor plans that range from 1,200 to 2,000 sq. feet, ensuring comfort and space, no matter your taste or family needs. With city water and community sewer, we've truly simplified North Carolina mountain living.
For those interested in using custom floor plans for building a home in Blacksmith Run, we'd love to hear from you!
Our Architectural Review board ensures high standards within our community, but we're open to customized floor plans and working with you to ensure that we're not just building you a house, but helping you make a home in Western North Carolina.
For a list of standards and specifications (including granite countertops, hardwood flooring, and more), simply fill out the form below. You'll also receive our own in-house floor plans for the homes at Blacksmith Run.
Searching For North Carolina Mountain Real Estate?
Blacksmith Run can make all your North Carolina mountain living dreams come true. Vista Developers has multiple floor plans available, as well as the ability to customize to suit your lifestyle and family needs!